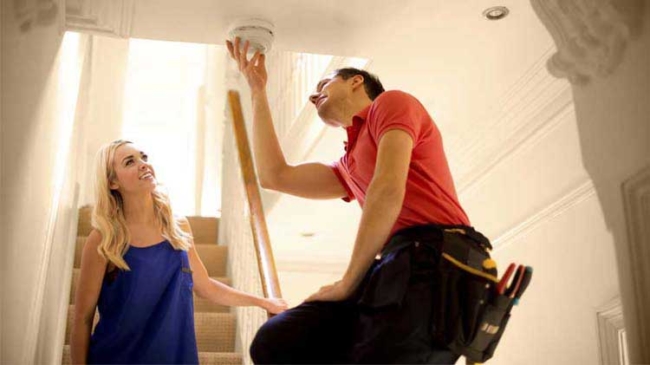 by Linda Wiseman, MD
Smoke Alarms
Have you checked to make sure that your smoke alarms are in working order? If the alarms run on batteries, do those batteries need replacing?
Recently, the dad of one of my patients said he uses his phone calendar to give him reminders. For example, twice a year to check the smoke alarm batteries, 4 times a year to change the air filters, etc. The cell phone is a wonderful invention because it has so many uses.
Fire Extinguishers
Do you have a fire extinguisher? If you do, is it still current and in working order? And does everyone in the house know where it is and how to use it. If you live in an apartment, where is the fire extinguisher located outside of the apartments? Don't count on those. Consider buying your own. Home Depot has a nice website with information on buying the right type of fire extinguisher.
Fire Drills
In the event of a fire, how would you get out of your home? What are the exits from each of your rooms: the bedroom, the family room, the bathroom, the kitchen?
Designate a meeting place for all family members outside of your home in the event of an emergency. For example, we'll all meet at the mailbox, or we'll all meet at the foot of the driveway.
Teach every child, even your 4 year-old, how to call 911. Just make sure they know that the operator gets very upset if they call for fun. This is not a game.
Where is a fire hydrant nearest your home? Has someone allowed bushes to grow around it? Will the fire department be able to find the hydrant?
Fire Hazards
Check all of your electrical cords and outlets. Make sure none of the cords are frayed or chewed on by the family pet. This can be a teaching project to show your children how we check our homes for safety. Think lamps, TV's, computers, coffee pots, rice cookers, toasters. Take a flashlight and look behind the washer and dryer. And I'm sure you can think of other appliances.
Do not keep homework papers, grocery bags, pizza boxes near stove tops. Many years ago I knew a family who lost their entire home to a fire that started with a pizza box left near the stove and it caught fire. They had to live in a hotel for a long time. Check right now, this very minute, for what is sitting around your stove.
Insurance
Do you have insurance coverage in the event of a fire? If you live in an apartment, find out from a local insurance agent how much it costs to cover your possessions.
More Information
This list of suggestions is only a start. Please, check out the Consumer Products Safety Commission for more tips.
https://rentonpediatrics.com/wp-content/uploads/2020/05/614-smoke-detector-wide.jpg
421
750
Scott Beyer
/wp-content/uploads/2020/06/Renton-Pediatrics-Logo-600x299.png
Scott Beyer
2020-05-22 09:16:44
2020-05-22 09:58:51
Let's Talk: Fire Safety