Will the COVID vaccine be available for kids?
The COVID vaccine has not yet been adequately studied in children. The American Academy of Pediatrics continues to advocate for adequate research in the pediatric population and both Pfizer and Moderna (the manufacturers of the two vaccines currently available) have now started studies that include children 12 years and older (the original trials only included adults). We anticipate these studies to expand to children 5 years and older in the coming months.
Will your clinic be offering the vaccine and when?
We are not a vaccine site for the current phase of vaccine distribution. We anticipate being able to offer the COVID vaccine to our patients as soon as we know it is both safe and effective in children. Renton Pediatrics does not have the ultra-cold freezers needed for the Pfizer vaccine (these are usually only in hospitals), so we will be offering the Moderna vaccine which can be stored at normal vaccine temperatures. Currently, the Moderna vaccine is authorized only for patients 18 years and older.  We received our first shipment of the Moderna vaccine at the end of December and have started vaccinating our doctors and staff in our clinic!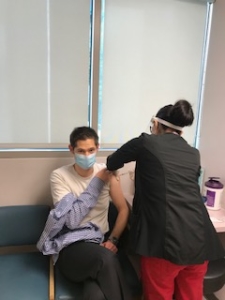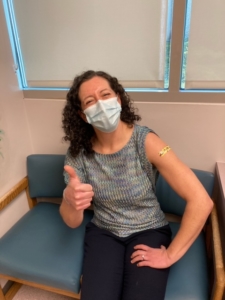 Should a breastfeeding mom get the vaccine when it is offered to them?
The first round of vaccine studies did not include pregnant or breastfeeding women,  but the experts believe that it is safe and the goal is to not limit access to pregnant or breastfeeding women.  We recommend you contact your obstetrician to discuss your individual risk factors.
The good news is that there are very few conditions in which the risks of COVID vaccine outweigh the short-and long-term risks of COVID infection. The sooner adults in the United States get vaccinated, the quicker we will achieve herd immunity, which will—in turn—protect our children.
Is it possible to get COVID from the COVID vaccine?
None of the approved COVID vaccines contain the live virus that causes COVID-19, so you cannot contract COVID-19 from the vaccine.
Should I still get vaccinated if I already had COVID-19?
It is recommended that even if you have already had COVID-19, you should still receive the vaccine when it is available to you. There is limited research on how long immunity lasts after a COVID-19 infection and a vaccine is the best way to protect yourself and others long term.
Where can I get the vaccine?
First check the Dept. of Health Phase finder to see if you are eligible at:
Phase Finder Tool :: Washington State Department of Health
This is a link to vaccine location sites in WA state:
Vaccine Locations :: Washington State Department of Health
Do I have to continue wearing a mask and social distancing after I get vaccinated?
After getting vaccinated, nothing changes in the short term. You should continue to social distance and wear a mask.
/wp-content/uploads/2020/06/Renton-Pediatrics-Logo-600x299.png
0
0
Nicole Lauinger
/wp-content/uploads/2020/06/Renton-Pediatrics-Logo-600x299.png
Nicole Lauinger
2021-01-05 10:27:18
2021-10-28 15:23:36
COVID-19 Vaccine FAQs